From its founding, Pitchly has been laser-focused on helping professional services firms get work done efficiently. One of our co-founders worked in investment banking, so he had firsthand experience with the countless tedious, manual tasks that bog you down. This product was created to specifically eliminate those pain points and ultimately to help teams drive growth in their firms.
Since its creation years ago, however, Pitchly has evolved. The platform still has strong roots in the original problems it was created to solve, but along the way, new and more innovative solutions have been crafted alongside our clients (thanks in large part to our hands-on client value team).
In this post, we'll cover the 7 most high-value use cases for the Pitchly platform, including some of our original core offerings, as well as exciting new use cases that have arisen after our latest platform update!
1. Centralize Disparate Data Sources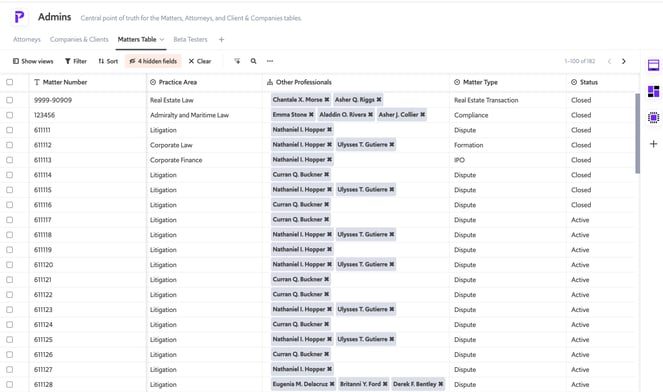 This is one of the main reasons Pitchly was created, so it remains one of the most impactful benefits to our clients.
With Pitchly, no matter how many places your experience or deal data currently resides - whether that's Excel sheets, your CRM, or even team members' emails - we can bring it all into one central location.


Here's how we make this possible:
Our in-depth implementation process
APIs that allow you to connect with almost any third-party software
Our Forms functionality that helps to centralize your data collection
When you have a single, searchable database, not only do you save time, eliminating the need to search countless different locations, but you also can be confident that the data you're accessing is the most up-to-date version possible.
2. Automate Pitch Content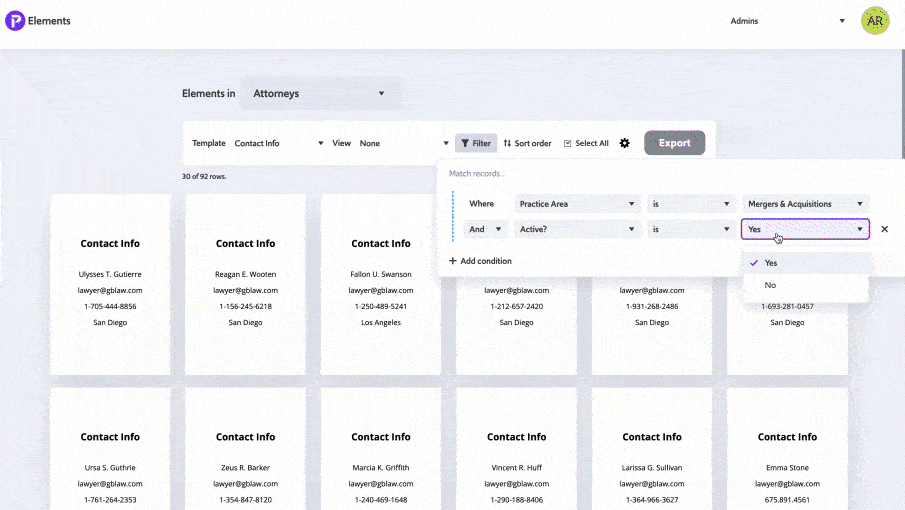 Our data-driven content automation capabilities are another staple for our clients.
In a recent industry-wide survey, we found that on average, professional services marketers and business development professionals waste a minimum of a quarter of their week on tedious, repetitive tasks. Pitchly cuts this time down by an average of 93%.
With Pitchly, you can automatically generate content that helps you win new business like:
Tombstones

Team bios

Case studies

CVs

Practice one-sheets

And more
This functionality is supported by both your centralized database and our dynamic templates. Simply build out the templates that your team can use over and over again, filter the data you want to appear, and our platform will automatically fill in pixel-perfect details in a matter of minutes (not days).
You can export this content directly to the platform or format of your choice including PowerPoint, Word, PNG, or PDF.
3. Safeguard Confidential Data
Many times, teams have data that is confidential, only approved for certain uses, or otherwise not content-ready. Pitchly can help teams ensure that every piece of data they display is pitch-ready and prevent the inclusion of confidential data.
One of the most helpful components of our dynamic content templates is the ability to add conditional layers. These layers can be used to hide confidential data or to alert you that key information is missing, prompting you to either update your database or swap that content out.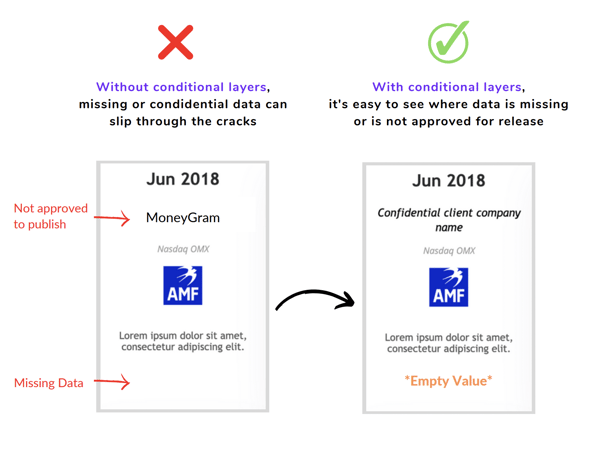 One of our investment banking clients uncovered this novel use case and integrated it as a part of their core content strategy. Check out the case study to learn more.
4. Create Dedicated Data Workspaces for Teams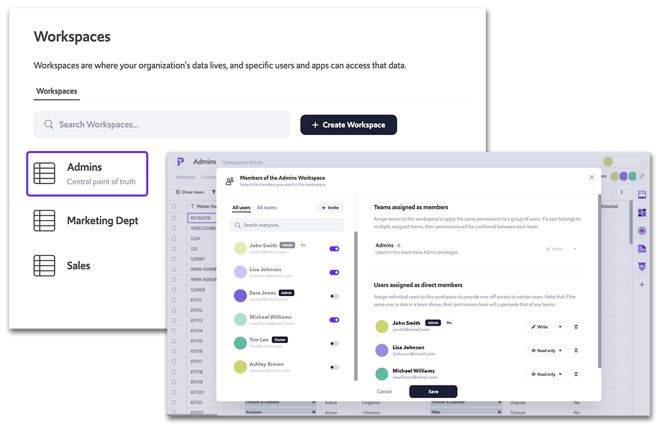 Every organization has subsets of data that need to be shared with various team members. In the brand-new version of Pitchly, you're able to ensure that everyone has access to the exact data they need, and no more.
By splitting data access up by team, seniority or other permission-influencing factors, you can create a streamlined experience for all of your users and protect sensitive data from being widely shared.
Admins have access to all data, and they can assign users and teams to one or multiple workspaces.
One of the most important things to note here is that though these workspaces are distinct, they are all fed by one, singular database, meaning that you can rely on up-to-date data across every workspace.
5. Streamline Website Content
Many firms use their experience/deal data to create content for their website. This could be team bios, case studies or tombstones, to name a few. However, manually updating these web pages every time your data changes can quickly become extremely time-consuming, causing this strategy to either waste a lot of time or to be neglected, leading to out-of-date pages.
Once an integration is established between your website and Pitchly, this process can run in the background with relatively little human involvement. You can leverage the data that's housed in Pitchly to drive reliable and timely changes on your website.
6. Enhance Your Data with AI
This is another brand-new feature on the latest version of Pitchly that just launched. By harnessing the time-saving power of Artificial Intelligence, you can input queries that help you enhance, adapt and update your database in seconds.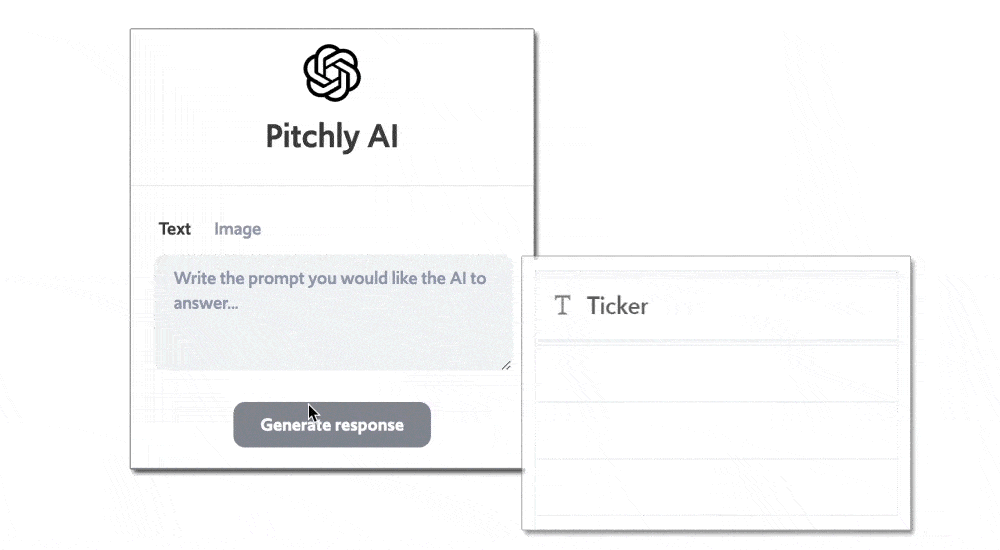 Our AI Assist app helps to eliminate some of the most tedious tasks of searching and manually inputting or updating data. While the possibilities are endless and will develop as we uncover new use cases as our clients incorporate it into their processes, here are a few ideas:
Standardize data to minimize errors and inconsistencies

Enrich data records with simple queries like "Generate NAIC code..."

Generate language translations to adapt to international audiences

Run formulas to generate data analytics and insights

Receive copywriting assistance to quickly enhance your content
7. Organize Brand Refreshes
A fresh brand update is exciting, but having to try to track down the seemingly countless places where you need to implement this update is not so much.
With Pitchly, you can knock out updating your content templates in one fell swoop. Simply update the existing templates your team has in Pitchly to reflect the new brand standards, including colors, logo, etc.
This eliminates the need to track down the hundreds of places your templates could be, and you can prevent team members from using templates with outdated branding, potentially sabotaging the effectiveness of your brand refresh.
Pitchly also partners with Templafy, the leaders in content enablement, so together we can help you push brand updates in a simple and streamlined fashion.
More Use Cases to Come!
Pitchly recently closed our Series A fundraising round at $7 million, and one of the main uses for this influx of funding is to invest in product innovation and improvements. This means that this is just the tip of the iceberg of what Pitchly is and will be capable of.
Check out our case studies to see how we've helped our clients achieve more efficiency in their processes. And request a demo to learn how we can help your firm.