Experience management – and how to improve it – should be one of every professional service's firm top goals.
Your firm's experience data is one of your most valuable assets. Your team can use it to leverage in marketing campaigns, pitches, and on your websites. But without the right tools, managing experience could be riddled with inefficiencies and even risks.
While Excel is a popular choice for many professional services firms, whether it's due to cost of comfort with the simplicity of the platform, it can't match the capabilities of a true data management platform.
Let's look at some worst case scenarios. In 2013, an Excel error led to a $6.2 billion loss at JP Morgan Chase. The model operated through a series of Excel spreadsheets that had to be completed manually via copying and pasting data from one spreadsheet to another.
In 2005, Kodak had to restate its financial results by $2 million and $13 million because an employee added too many zeroes to pension and other employment termination benefit records of one other employee.
Even if your team never experiences these crippling outcomes, at best, you're not functioning efficiently. So let's take a closer look at what's at stake.
The Limitations of Excel for Experience Management
Excel can't compete with a data management platform when it comes to data processing power.
Lack of Scalability
Excel can't deal with large amounts of data from different sources and it struggles with large file sizes. Meaning, if you put too much data into a single Excel spreadsheet, the software lags when performing calculations.
Even though Microsoft has claimed to have improved performance and limits, it's still not enough for the amount of data that large firms require.
Without a system that scales with their growth, professional services firms will constantly need to upgrade their tools and processes.
Data Integrity and Version Control Challenges
Data integrity and accuracy will always be an issue when using Excel for experience management.
According to LinkedIn, Excel doesn't have built-in validation, version control, or audit trail features that can prevent or detect data entry errors, duplication, inconsistency, or unauthorized changes. If you continue to use Excel for experience management, you'll have to regularly check formulas and links for errors.
Excel also allows any user to change the document, which could overwrite changes you can't get back – changes that could include a bad macro. One bad macro can cause every piece of data to be incorrect, forcing teams to spend hours hunting down the mistake.
Data Silos
Data silos inhibit teams from working together effectively. A data silo occurs when raw data is only accessible by one department while being isolated from the rest of the firm. When this happens, there's a severe lack of transparency and trust.
Excel doesn't easily integrate with other systems, so your team's collaboration and communication are reduced. Excel also doesn't with multiple users, leading to file locking, version conflicts and data loss.
The lack of scalability, inability to ensure data integrity and the ultimate outcome of working in silos means Excel has severe limitations when it comes to experience management. But there are also serious risks firms could face when relying on Excel to manage experiences.
The Risks of Relying on Excel for Experience Management
As mentioned above, using Excel can cause serious risks for companies due to errors but there are also security concerns, and ultimately the inability to make the right decisions for your professional services firm.
Potential for Critical Errors and Data Loss
Excel spreadsheets rely on manual entry – meaning they're susceptible to spelling mistakes and incorrect data input. Think about how one macro could throw off an entire spreadsheet or one inadvertent keystroke can change years of collected data.
According to The Data Lab, Excel spreadsheets were never intended to be enterprise-level tools and, as a result, the possibilities for fraud are plentiful. Concealed code, hidden rows or columns, and fallacious inputs are easily disguised. And because shared documents allow anyone to edit, it's difficult to know who was responsible for the last correct version.
Compliance and Security Concerns
Using Excel for experience management could put your firm at risk for security breaches.
According to LinkedIn, Excel doesn't have robust security and compliance features that protect your data from unauthorized access, modification or disclosure. Even if you have solid data governance strategies in place, when the system you're using can't reliably support it, then you can undermine them.
Not only can security breaches seriously damage your company, it can also get you into hot water with compliance to laws, regulations, and standards. This is especially crucial in professional services firms where you're dealing with potentially highly sensitive data on your clients.
Implications on Decision-Making Processes
Data collected and stored in Excel files can't be analyzed as effectively as it can in a data management system.
Excel may have some basic features like filters, pivot tables, charts and functions but they don't provide the data analysis that a data management solution can. Advanced capabilities can compare data, costs and provide configurations that help firm accurately make decisions that will affect the future of the firm.
There's also the critical consideration of being able to rely on the data you pull. If someone is using a live Excel spreadsheet, while someone else is using a version they downloaded to their computer a few week's before, it's very likely that the same search could yield different results. This means your decision-making processes could be relying on inaccurate data.
You Need a Dedicated Data Enablement Platform
If you want to take the next step away from Excel-based experience management, shift over to a platform that was built to centralize and leverage your data reliably.
Pitchly's data enablement platform brings all your data into a single, easy-to-use platform. It centralizes and streamlines all your firm's data, so your team doesn't have to track down data between disparate systems. Using Pitchly's data enablement platform addresses and solves both the limitations and risks associated with using Excel for experience management.
Centralized Database Brings Together Disparate Data Sources
Pitchly consolidates data from all your systems into one centralized location. No more juggling multiple sources or struggling with data discrepancies. Whether you need to import existing data, collect new data, or stream that data in or out of Pitchly, we offer a simple, reliable and secure solution.
Eliminates Manual Searching in Excel Sheets, Email and More
When your data is in one place, hours of time are saved that would be spent searching multiple databases or sources of information. Data is quickly accessible when your teams need it, increasing productivity and improving the client experience.
Advanced Filtering + Search
Advanced filtering capabilities allow you to apply multiple layers to your data, populating the most relevant data in a matter of minutes. Pitchly allows users to save and share popular filter combinations, enabling your team to quickly and easily access common searches.
Separate Workspaces
Separate workspaces mean every team member has access to data, but safeguards are put in place to keep sensitive data secure. No one can change the data, ensuring its integrity, streamlining the data access means teams have what they need when they need it.
One Firm's Success Story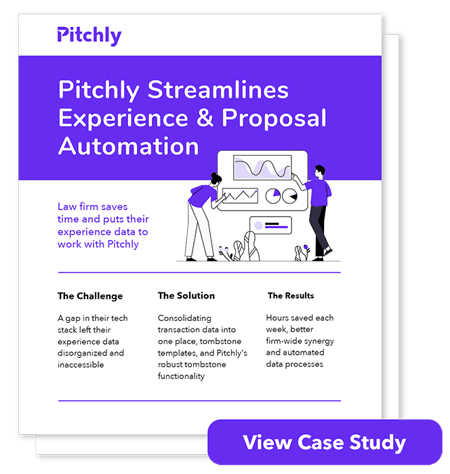 Choate law firm's marketing team was wasting time searching multiple databases to create tombstones and other requests for transactional information. They were also spending dozens of hours per month locating, fact-checking and formatting tombstone information for attorneys.
Pitchly helped consolidate the firm's transaction data into one place and provided tombstone templates, saving hours per week. The firm had data consistency and a single database to reference.
Ready to make the jump from Excel to an experience management platform? Check out our Data Management page to learn more.