2022 was a big year for Pitchly. We added more team expertise and strengthened relationships with our existing clients with a big focus on innovation. Also dominating this list of 2022 wins are our product updates.
Whether big or small, these product changes were directly driven by client priorities, technological innovations and critical thinking about future client needs. We're excited that we're heading into 2023 with a product that is even more prepared to solve the biggest data-driven challenges for professional services firms.
So let's take a look at the upgrades the Pitchly app experienced in the past year.
Contents:
Data Collection Enhancements
With Pitchly, firms are able to streamline their data collection processes to ensure that all data is accessible, uniform and centralized. The following update to our Forms App helps to keep everyone in the loop.
Submission Email Summary
Whenever a new form submission is made, relevant team members can be notified. These notifications include customizable reports that can include submission data or not.


Knowledge Base Article: Share a Copy of Form Submissions by Email
Data Management and Operational Efficiency Boosters
We've found that most professional services marketing and business development teams struggle with keeping data centralized, organized and easily searchable.
Pitchly was founded on the goal of streamlining this previously frustrating process to save teams valuable time.
This year, though, we stepped it up a notch and invested our time in identifying and building new ways in which we can eliminate even more unnecessary time sinks and make it easier than ever for teams to access the data they need.


Data Archiving
Pitchly users now have the ability to archive and restore records. This allows you to keep your database clean but still include archived records in your audits if necessary.
Knowledge Base Articles: Delete a Record, Archiving and Restoring a Template, Archive Templates in the Proposals App, Archive Templates in the Slides App
Easily Arrow Through Records
Moving from record to record in expanded view is now easier than ever with our arrow functionality. Rather than having to exit the expanded view to click to another record, users can simply press the forward or backward arrow to sift through additional records.
Knowledge Base Article: Moving to the Next Record in an Expanded Record View
Save Full Filter View
We upgraded our saved filter functionality to make it easier to automatically populate commonly used criteria. In addition to saving criteria such as industry, deal size, team member, etc. users can now specify which fields are displayed in the data that populates.


Knowledge Base Article: Create a Custom View
Rearrange Multiple Reference Fields
Users likely have multiple tagged references in a record, and now they're able to manually drag and rearrange the order in which these are displayed to suit their needs.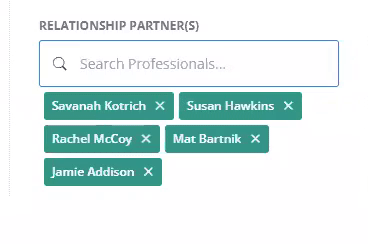 Knowledge Base Article: Rearranging Reference Multiple Selections
Preview Relevant Record Information Before Selecting Reference Datapoint
When searching by a reference or referencing multiple field types, users can now customize which 3 data points appear in the preview. The ability to view additional data in linked records can assist with verifying selections by previewing other relevant criteria.

Knowledge Base Article: Adjusting the Data Displayed When Searching Fields
Duplicate Records to Easily Create Similar Records
Users can now use the Duplicate Selected Row button to create an exact copy of one or more rows. Duplicating rows of data allows for fast one-off changes to records in tables to speed up data input for similar content, such as matters, bios, ranking submissions, etc.
Knowledge Base Article: Duplicating Record(s)
Specify Relevant Records to Update Globally
Pitchly's Update All functionality is now more advanced to allow for more intentional global updates.
Users can select which records they would like to reflect updates, rather than automatically updating every record.
This allows users to make much more specific and relevant updates to records, without impacting records that you want to remain as-is.
Knowledge Base Article: Update All
Database Visibility Permissions
In the 2023 version of Pitchly, we prioritize data efficiency and safety more than ever. As a result, we now have advanced database visibility permissions. Admins can decide who has access to what data.
This can be driven by necessity, i.e. keeping team members' workspaces clear by only showing them what's relevant to them, or by permission, i.e. only giving certain team members access to database with confidential data.
Content Creation Optimizations
Creating content that enables your pitch team to win new business is is one of the most lucrative yet time-consuming responsibilities of professional services marketing teams.
Typically riddled with tedious tasks like searching multiple databases, copying and pasting data, Googling client logos, Pitchly was created to turn the norm on its head and make creating content as simple as a few clicks.
This year, we set out to build upon the strong foundation already in place, and identify novel time-saving content creation capabilities in the Pitchly app.
Make Text All Uppercase in Design Assets
Thanks to this update, our users now have control over capitalization formatting in content, regardless of the capitalization of the data being inserted. Now, ensuring that all data is displayed in all caps is as simple as checking a button.
Knowledge Base Article: Make Text All Uppercase in Design Assets
Copy and Paste Templates Across Tables
Pitchly users can now copy and paste entire templates in the Documents application across databases and entire accounts, as well as across browser windows and tabs. This functionality allows users to scale their content creation efforts even more efficiently than before.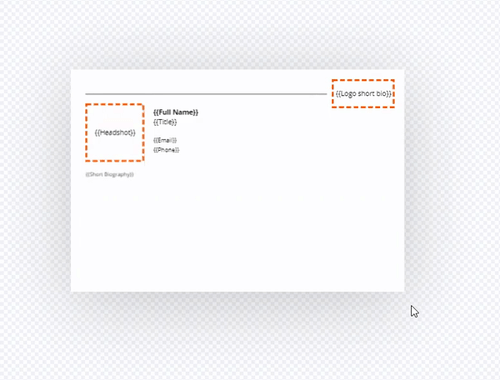 Knowledge Base Article: Copying and Pasting Templates
Improved Image Quality Capabilities
Users asked for improved image and logo quality exports, and we listened. In addition to the previously supported file types of .SVG, .GIF, .JPG, .PNG, .WEBP, .PSD, .BMP and .TIF users can now export content from the Documents app in high quality .EPS format to accommodate high quality brand standards for their firms.
Knowledge Base Article: How to Increase Image Quality
Export Multi-line Text Fields into Bulleted List to Proposals and Slides
Users who often use multi-line text fields are now given the ability to easily format the exports to include bulleted lists. This formatting is automatically generated by simply pressing the enter/return key between lines of text in a multi-line text field.
Export from Pitchly:
Knowledge Base Article: Proposals App: Exporting a Bulleted List Using a Multi-line Text Field
Template Archiving
In addition to the data archiving mentioned earlier, Pitchly users now have the ability to archive templates in the Documents, Proposals and Slides apps. Users can archive templates that are no longer in use but may want to reference later, or delete templates fully if they are no longer useful.
Knowledge Base Articles: Delete a Record, Archiving and Restoring a Template, Archive Templates in the Proposals App, Archive Templates in the Slides App
Export Design Assets Directly Into a PowerPoint or Word Doc Template
Users now have the ability to export design assets such as bios or tombstones directly into a PowerPoint presentation or a Word document. They're able to so this both from the Slides app as well as the Proposals app. In these exports, they can set advanced design parameters such as image resizing.
Knowledge Base Articles: Exporting Documents App Design Assets from the Proposals App, Exporting Documents App Design Assets from the Slides App
All of these product updates come together to create a stronger, more potent platform to help our clients save time and drive growth in their firms. From data collection to data management to content creation, clients will experience real-time savings by automating tedious tasks and giving skilled team members back their time to dive into the work they were hired for.
To learn more about what Pitchly can do and the problems it was created to solve, check out the video below.
---
Want to stay in the loop with product updates, industry trends, data tips and more? Subscribe to the Pitchly blog!