Spend more time helping your firm grow
Pitchly eliminates your team's tedious data entry and content creation tasks. Use your data to automatically generate impactful assets, empowering your firm to bring in more business.
A single database to enable your pitch content
Gathering materials for pitches doesn't have to be so time-consuming.
Pitchly empowers Business Development professionals to access all of the data on your firm's previous work, team bios, case studies and more in a single, searchable database.
Even on-the-fly data retrieval tasks take minutes, not hours. This is thanks to our reliable data collection processes and our ability to gather your disparate data into an easy and dynamic workspace.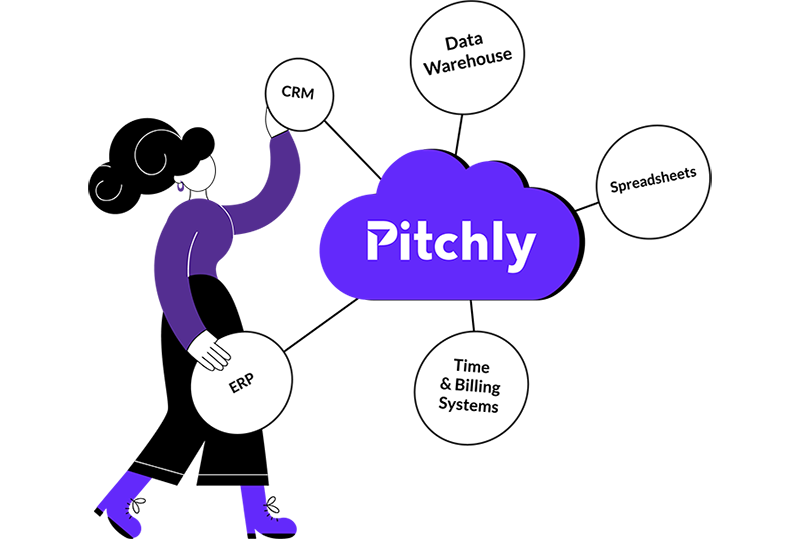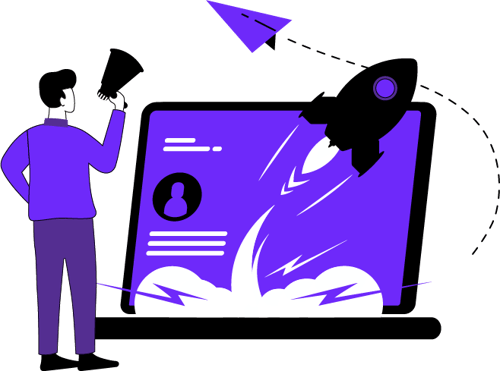 Easily highlight what sets your firm apart
Your marketing team's best asset is your firm's previous work, your awards, and your case studies. We make it easy to enable this data to attract new clients.
Our dynamic content templates empower you to go from data to content seamlessly by automating the creation process.
The outcome is impactful content that gets potential clients' attention.

Pitchly is the ultimate resource for marketing and business development
Whether you're focused on bringing new clients through the door or empowering your pitch team to seal the deal, Pitchly arms your team with both efficient content and data processes to save hours each week.
Content automation
Eliminate manual content creation processes for assets like deal tombstones, bios, and case studies.
Our dynamic content templates automatically populate with data from your filtered search, saving you time in both data sourcing and design.
On average, our clients save 10+ hours per week.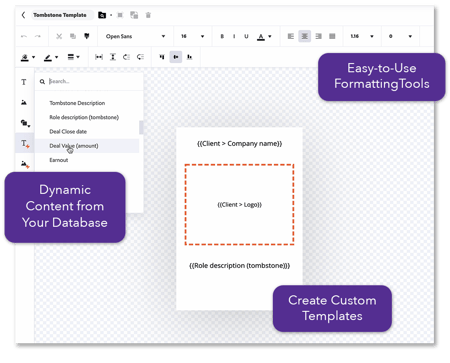 A single database
Your data will no longer be scattered across Excel spreadsheets, emails, desktops or even physical cabinets.
Instead, everything is centralized in a single, searchable database that makes it easy to find the data you need - and gives you the confidence that what you find is the most up-to-date.
Seamless data entry
Getting your lawyers, bankers, recruiters, etc. to enter data as it comes in can be like pulling teeth. Often, this is because there isn't a single, reliable process for this.
But with Pitchly Forms, it's easy both to collect and approve data for your firm.
It's as simple as pre-selecting fields to gather only the information you need, and sending out a link or an email to your team.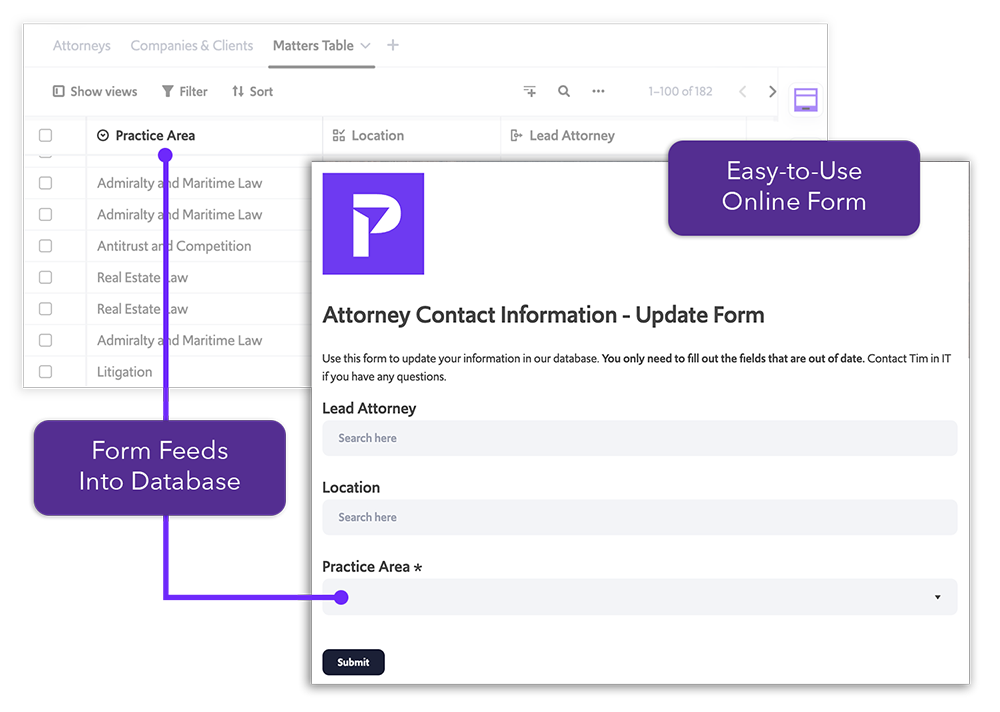 What You Can Do With Pitchly
Data-Driven Marketing
Put your data to work and allow it to do the repeatable tasks and processes so you can focus on strategic and creative projects.
Tombstones and Other Content
Automatically generate content from deal and client records. Incorporate custom branding, layout, enforce client confidentiality.
Proposals in Real Time
Power a library of branded templates and dynamic components with a live stream of your data to generate on demand assets.
Centralized Database
Pull data from a variety of sources enabling you to search and filter from a single, uniform workspace. Saving you time and headaches.
Your team's time is best spent on strategic tasks
Eliminate time-consuming manual tasks and give your team back hours every single week.
Request a Demo