Artificial intelligence is everywhere. It's used in almost every industry from manufacturing and retail to healthcare and marketing.
In fact, you've likely used AI technology multiple times today for facial recognition to open your cell phone, spam filters on your email and talking to your AI-powered assistant, i.e., "Hey Siri, what's the weather today?"
We'd like to propose that professional services firms should absolutely be using AI for marketing, too.
The AI Boom
According to Deloitte, more than 50% of organizations are planning on using AI and automation technologies in 2023.
AI is especially booming for marketing. According to Statista, in 2020, AI technology in marketing was valued at $12 billion. Now experts predict that number will exceed $35 billion by 2024, nearly tripling its use in just four years.
This increased usage in professional services marketing makes sense. According to LinkedIn, savvy users of this technology have experienced significant positive impacts on their services and operations.
AI improves the way firms analyze their data, helping them to make better and faster decisions. AI for marketing specifically can be used to power a chatbot on your website that provides visitors with relevant answers to their questions, summarize lengthy documents, produce digital images and automate many of the processes that drag your marketing team down.
The Fear of AI
But people do have concerns about using AI tools for marketing, understandably.
As AI automates many tasks that fall under content marketing for professional services, like copywriting, SEO writing and generating articles, there's concern it might replace some positions in professional services. Additionally, firms are concerned about the quality of output from AI.
But, according to LinkedIn, AI's benefit outweighs any negative as it creates huge opportunities and jobs that require upskilling. And perhaps more importantly, it can help deliver better and more personalized services to clients.
AI Tools for Marketing
There are several AI tools for marketing that work in both low-code and no-code solutions, meaning they aid developers or allow even non-developers to take advantage of this growing technology.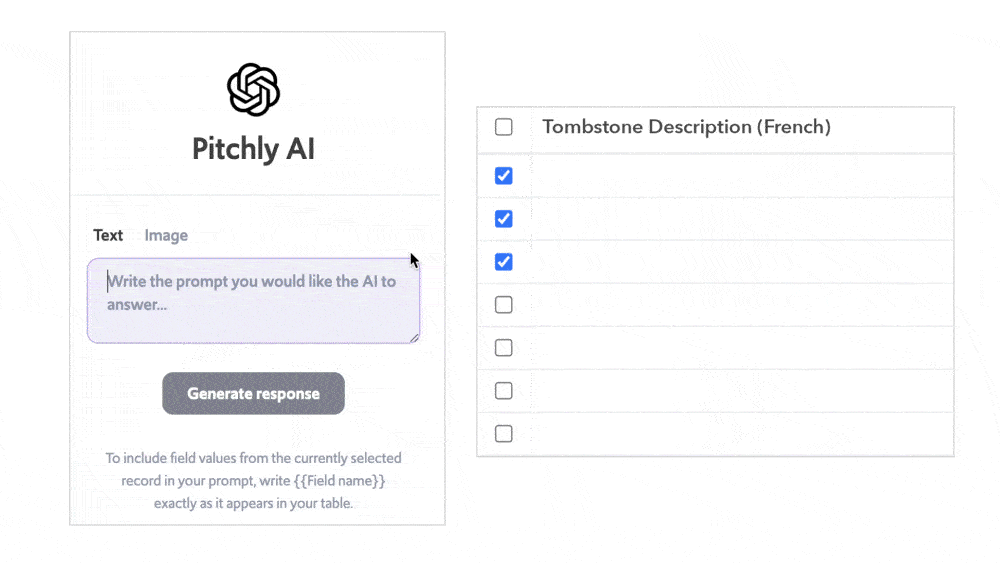 Why You Should be Using AI for Marketing
Without automation, professional services marketers must deal with slow, repetitive tasks on a daily basis, forcing them to work inefficiently. It's been found that 79% of the industry wastes a minimum of a quarter of their week on non-strategic tasks. For this reason alone, using AI tools for marketing delivers valuable results.
According to McKinsey, using AI for marketing can help users craft personalized marketing, social media and technical sale content, including text, images and video. AI assistants can be aligned to your specific firm. These tools also aid organizations that deal with risk and legal by answering complex questions by pulling data from legal documentation as well as draft and review annual reports.
One of our clients recently shared with us that using ChatGPT has changed the way she completes daily tasks:
"I first used ChatGPT to draft a practice area page using certain keywords, representative matters and thoughts from attorneys that I compiled. I asked the tool to summarize the information and it was such a time savings. I now turn to it almost every day as a jump start to various projects: researching target companies, introductions for event invitations, and writing cover emails for attorneys to send to their prospects to set up a meeting. In each instance, I am editing to use my own voice, but it has sped up my ability to help my attorneys with their business development efforts."" - Sheenika S. Gandhi, Chief Marketing Officer, Greenberg Glukser LLP
But AI can also allow professional services organizations to improve client data by synthesizing and turning it into actionable insights. With this information, firms can better pinpoint their clients' needs and how to market to them.
This level of insight is a necessity to effectively compete in this ever-growing industry.
AI can also help to provide a reliable and scalable solution for maintaining your database that feeds the data-driven pitch content that teams use to land new clients.
What to Watch Out For
As with any piece of technology, firms must figure out if the benefits outweigh the risks. So while this technology often saves your team tons of time, you may want to watch out for a few things when making the decision to implement this technology, and as you're incorporating it into your processes.
According to McKinsey,
AI can be wrong. Sometimes AI will generate inaccurate information based on a user question and can't challenge the result. Meaning using it to create a bio for an employee could leave you with a finished piece of content that's full of incorrect facts. So, the outcome still requires oversight by a human team member.
Filters can't catch inappropriate content. McKinsey found that image-generating applications that create avatars from a person's photo received options that portrayed them nude, even though appropriate photos were used.
It doesn't remove biases. If bias exists in your data, AI can't remove them.
It doesn't automatically align with your values. Any AI tool for marketing will have to be adapted to incorporate your unique culture and values.
There are questions about intellectual property. McKinsey points to these questions about AI for marketing: "When a generative AI model brings forward a new product design or idea based on a user prompt, who can lay claim to it?" "What happens when it plagiarizes a source based on its training data?"
At the crux of many of these considerations are that you can't rely full on AI like you can with a human. It is simply a tool to support teams, rather than one to replace them. The most savvy professional services marketing teams use AI to fill in any gaps they may have in their capabilities or to handle tedious tasks, and they use the time they free up to do the skilled work they were hired to do.
Want to keep tabs on all the latest trends, strategies and developments that dealmakers in professional services need to know? Sign up for our monthly newsletter, the Pitchly Pulse.