Enhance your data and improve your productivity with the power of our new Pitchly AI Assist.
Keeping your database up-to-date, accurate and fully-loaded has never been easier.
Introducing our brand new AI Assist, your own personal assistant ready to take the most tedious data tasks off your plate.
The possibilities are endless, but here are some great ways to use it:
Quickly generate marketing descriptions at scale

Optimize your copywriting with automated writing assistance

Standardize data to minimize errors and inconsistencies

Automate data filtering to save time

Enrich data records with simple queries like "Generate NAIC code..."

Generate language translations to adapt to international audiences

Run formulas to generate data analytics and insights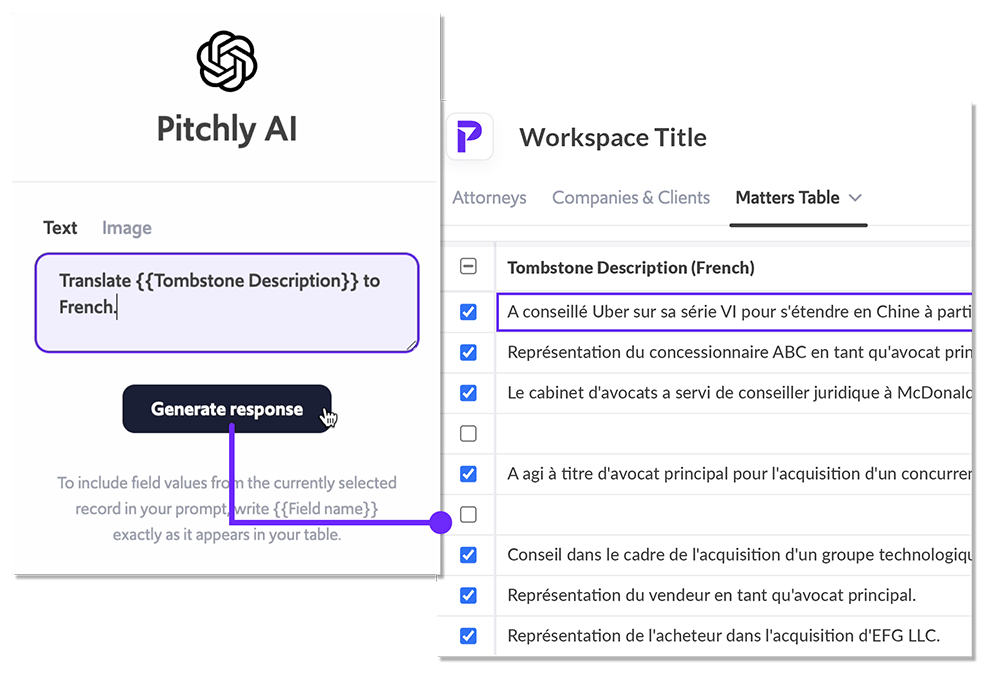 According to Gartner...
70%
of all organizations are exploring AI.
How can AI help you achieve your goals?
Already using ChatGPT in your firm?
Pitchly's new features help you harness it to drive even more efficiency by creating a native integration.
Use the same prompts your team already takes advantage of, but execute at scale by automatically generating multiple records at once, no copy and paste required.
AI is here - don't fall behind
Learn how Pitchly's AI-supported platform can accelerate your content and data processes
Request a Demo