While customer experience has been the more mainstream focus area in the last several years, employee experience is now rising up the ranks. 92% of business leaders are now identifying employee experience (or EX) as a top priority, versus a meager 52% pre-2020. The impact that this has on business outcomes, productivity and more is undeniable.
And yet, many teams are still unknowingly sabotaging themselves with one core fault in their processes: making highly skilled members waste time on tedious tasks.
While some tedious work is expected, when employees' to-do lists are riddled with tasks that distract from the specialized skills they were hired for, fulfillment suffers. And that can lead to an avalanche of other negative organizational consequences.
Why you should care about employee experience
While the overarching goal of employee experience investments is to lead to happier and more fulfilled employees, it is not totally selfless. When employees are satisfied, the organizations they work for benefit.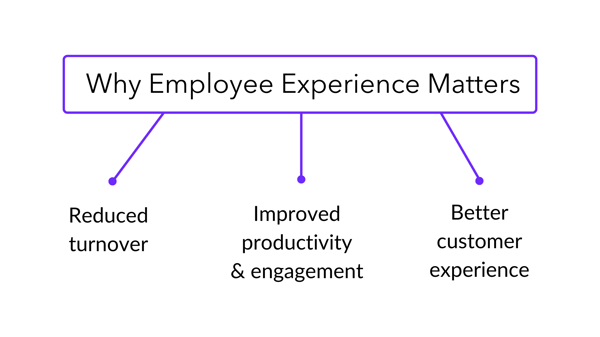 Reduced turnover
The most obvious gain is reduced turnover. When your employees are happy, fulfilled and feel appreciated, they are more likely to stick with your company for longer. They see it as a great pathway to grow their career, not a roadblock.
Every year, companies in the US spend an average of one trillion dollars in turnover expenses. This includes recruitment, training, and more.
In addition to the financial implications, there's a negative impact on company culture if you have employees coming and going all the time.
Improved productivity and engagement
It's as simple as this: happy workers who feel appreciated work harder. And they work smarter.
A better employee experience can lead to a bigger investment in the company vision on behalf of the employees. They're more likely to seek out innovation to identify creative ways to reach company goals. They don't feel like they're a workhorse being used for their labor; instead, employees feel like they have skin in the game, too.
Better customer experience (and increased revenue)
The benefits can trickle all the way down to your customers/clients because engaged and knowledgeable employees are best equipped to understand your clients' needs. And they care more about creating an overall positive experience. Numerous studies demonstrate a direct link between employee and customer experience.
Employee engagement and fulfillment
In order to get to the true root of the problem of an overload of tedious tasks and understand why it's one of the worst detractors from your employee experience, we need to understand what makes people feel valued in their roles. And what we discover is that tedious tasks are antithetical to almost all of them.
According to the 2022 Employee Experience Guide, the following factors contribute most positively to an employee's happiness and fulfillment at work:
An environment that gives them the tools to reach their full potential
Being able to find purpose and meaning in their career
Inclusive leaders within a diverse workforce
The ability to learn new skills and develop their skillset
Being encouraged to bring their whole selves to work every day
As you can see, many of these indicators revolve around purpose and growth. If you impede your team member's ability to dive into the specialized work that they're passionate about and were hired for, it prevents them from fine-tuning the skills that will help them reach their career goals. It also can lead to a feeling that they're doing work that doesn't make a difference; this, in turn, leads employees to feel undervalued.
More than 80% of professional services marketers waste at least a quarter of their weeks on tedious tasks. Check out our industry report to learn more.
Automation is the ultimate tool to overcome this barrier
With so much at stake, ensuring that time-consuming, repetitive tasks don't dominate your skilled employees' time is a valuable investment.
And the solution to this? Automation.
Technology has come a long way in the last few decades, and there continue to be improvements every single year. So take advantage of these evolving capabilities and shift some of the workload off of your team's plate and over to software.
Operational automation tools
Project/task management
Keeping track of progress on current and ongoing projects can be a major burden to teams. Especially if someone is acting as a de facto project manager but were hired for their skills in accounting, marketing, client success, etc.
Tools like Monday, Airtable, ClickUp, etc. can help to streamline this process by implementing project templates, programmed reminders and automated triggers when certain tasks are completed.
Onboarding and client success tasks
Creating a really great welcome and onboarding process for clients is crucial to gaining loyalty, but all of these little tasks can add up to be a major time sink for teams.
There are a variety of tools that can help with this, though. Use email marketing tools like Hubspot or Mailchimp to automatically place clients into onboarding workflows that gets them successfully started with your product or service.
You can also connect your CRM to tools like Gifted.co, Rybbon, or Sugarwish to automatically send out gifts when certain criteria are met (i.e. signing contract, renewals, etc.).
Notifications to your chat platform of choice (Slack or Teams) can also be integrated with these workflows to let the team know when customers sign or renew.
Enhancing company culture
Tasks that revolve more around "soft" topics such as company culture are often pushed to the wayside when time resources are limited. But in many similar ways to automating client onboarding tasks, you can automate ways to make your employees feel appreciated.
When you connect your HR software (like BambooHR or Workday) to Slack or Teams, you can automatically share a quick bio of new hires, highlight birthdays, or celebrate work anniversaries. You can also connect your HR software to gifting platforms like Gifted.co or Sugarwish to send out gifts on special dates to make your employees feel appreciated.
The benefits of creating automations in this realm are twofold for employee experience: you're enhancing it by making your employees feel appreciated, and you're not sattling a person with the burden of running it; automation handles it all.
Marketing/Business Development Automation
Email marketing and lead nurture
When you think of marketing automation, this is likely what comes to mind. Sending out individual emails to engage and nurture leads quickly becomes unsustainable, even for the smallest firms. Marketing technology was specifically created to combat this problem.
Using tools like Hubspot or Mailchimp can help you set up email workflows where leads are automatically enrolled into when they meet certain criteria. Having all of this running in the background ensures that your leads are never being ignored. And it allows you to focus your efforts on brainstorming/executing innovative strategies and customizing reach-out to top prospects.
Social media
Social media is another one of those necessary evils for a lot of firms. Especially in sectors like professional services, where it rarely directly leads to new deals closed. Nevertheless, it's an important component of your brand, and consistent inactivity on social can harm your organization's reputation.
But since its benefit is not nearly as direct as other marketing efforts, it's important to be intentional about how many resources you dedicate to it. While you still need a team member to create the overall strategy and write copy (or you could even have AI do that for you), leave the logistical tasks to automation to free up your team's time.
Social media scheduling tools like Hootsuite or Sprout Social are incredibly beneficial for marketing teams of all sizes. This takes the burden of manually scheduling away and instead can allow your team to draft posts to send out on different dates and platforms. Many platforms automatically suggest the best times to post for you audience as well, taking that mental labor off teams' plates as well.
There are other, more advanced social media automation tools as well. Software like NapoleonCat can be a huge helping hand if your team finds themselves consistently replying to the same questions on social. The platform automatically sends out replies that your team crafts when triggered.
Content
This is often one of the most time-consuming tasks that a marketing team is grapples with. And since content creation is often a mentally taxing process, any amount of automation can make a big impact.
In professional services marketing, creating data-driven content for pitch decks is one of the most effective marketing efforts. And also the most tedious. So automated content generation is huge opportunity to free up some time and enhance employees experience.
Tools like Pitchly can help to connect all of your existing data to content, automatically populating pre-designed templates to make content like tombstones, case studies, bios, etc. ready for export within minutes.
Proofreading is another major thorn in the side of marketing teams. It takes intense focus and multiple read-throughs. Browser plug-ins like Grammarly can easily check for spelling mistakes, grammatical errors and even stylistic suggestions.
While content marketing often is thought of as written content, video marketing is quickly becoming a staple component of the strategy. But video editing is one of the most skilled and time-consuming skills a marketer could learn. Utilizing plug-and-play templates like mKeynote for Adobe Premiere Pro for Final Cut Pro can take a lot of the hair-pulling out of the process. This gives you a library of various customizable graphic elements like lists, lower thirds, graphs and more that you simply plug your information into. This makes it not only easier for a novice video editor to create really great-looking content, but it also saves hours of time.
Take advantage of automation and improve your employee experience
Shifting some of the burden away from your team and over to technology will have a greatly positive impact on your team. Not only will tasks reliably get done - and not overlook when teams are up to their eyes in tasks - but you will also have a happier, more engaged and less overwhelmed team.